In my arms
5 Mai 2004
I speak too much about terrorism, computers, software, and other boring stuff these days. Who cares? The only important thing is beauty. So let's change a bit. Here is a nice looking girl. Blue eyes, white teeth, red lipstick, a genuine smile, the nice smell of innocence. One of the very few girls who can live with me.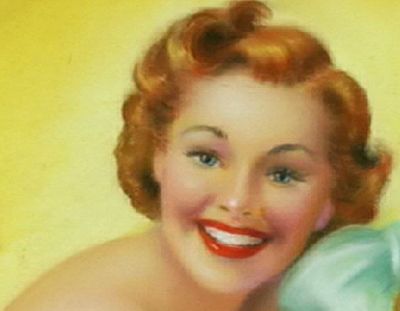 This night, I held her in my arms. Here is the proof.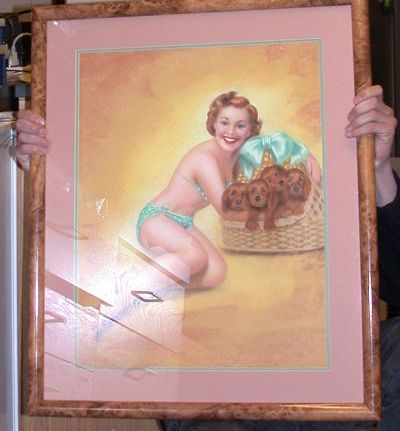 She is actually a long-awaited original pastel from US pin-up master Billy deVorss, painted in the 40's or 50's. Typical "Good Girl Art". This painting is reproduced in the wonderful Bible "The Great American Pin-Up" by Martignette & Meisel, from Taschen, as one of his finest pieces of art. You can find pictures of her on the internet, like in the deVorss gallery in The Pinup Files or in the german site Pin-Up Art. So kitsch, so beautiful! I love US pop culture from these old days. When I'm rich I will buy an original Vargas. Or maybe a Pearl Frush. Or an Elvgren. A Petty. Or an original cover by Robert Maguire. And a Cadillac Eldorado with lots of chrome. I need to save money. Now.